All listed prices include FREE site survey,  FREE delivery, and FREE Installation,
MADE IN THE USA
Elite Straight Stair Lift
400 Lb Lift Capacity (181 Kg) | Limited Lifetime Warranty
Combine high performance and adjustable comfort. The Bruno Elite straight stair lift offers worry-free access and a premium design that seamlessly blends into your home's environment. Consider options such as power swivel seat and power folding footrest to customize your Elite straight stair lift to match your unique situation.
Discover why Bruno receives the best stairlift reviews of any manufacturer on the market.
Easy Operation
Armrest control gently moves stairlift. Two wireless remotes also included.
Customizable Comfort
Adjustable seat and footrest height, plus space between arms, to fit different body types.
Space-Saving Rail
Unique vertical rail leaves maximum open space on steps. Covered gear rack reduces exposure to grease, dirt.
Easy Operation
Armrest control glides stairlift smoothly up/down. Two wireless remotes also included. Fold stairlift when not in use to save extra space.
Integrated Safety
Swivel seat rotates up to 90° for safe exit at top landing. Obstruction sensors and retractable seat belt ensure safety.
Northcoast Mobility Price:  $4800.00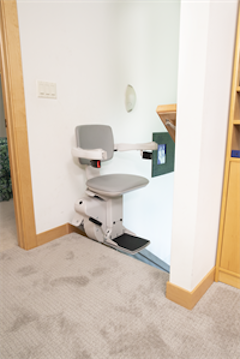 TECH SPECS
Lift Capacity: 400 lb (181 kg)
Standard Seat Size:
18 in wide x 15 in deep (457 mm x 381 mm)
Larger Seat Option:
22.5 in wide x 16.5 in deep (572 mm x 419 mm) +$350.00
Standard Footrest Size:
10 in long x 9 in wide (254 mm x 229 mm)
Larger Footrest Option:
12 in long x 11 in wide (305 mm x 279 mm) +$150.00
Vertical Rail:
Installs within 6 in (152 mm) of the wall
WARRANTY
Lifetime Warranty on Major Components — motor, gearbox, drivetrain and stationary rail system — for the lifetime of the Bruno Stairlift as long as the original purchaser owns the stairlift.
2-Year Warranty on Parts and Labor provided by Northcoast Mobility.
2-Year Warranty on all components after date of installation by an Authorized Bruno Dealer.
30-Days Labor Coverage after date of installation by an Authorized Bruno Dealer for any manufacturing defect.
ABOUT BRUNO
Veteran-Founded | Family-Owned | Made in USA
Would you like to arrange an In home evaluation of your stairlift needs? If so contact us Today. If you have any questions or comments, please let us know. We value your feedback.