A curved stairlift is the optimal choice for spiral staircases or ones with a landing or bend.
The 4000 features the tightest track bends in the industry today. Each 4000 is custom-built based on your home's architecture to ensure it fits snugly against your wall and maximizing your staircase's remaining capacity.
If space at the bottom of the staircase is a concern, the seat can be parked upstairs by adding a Powered Hinge Rail that lifts and folds the track away when not in use.
Custom built to fit your staircase,  available in a variety of colors to match your home and décor. Coupled with one of three seat styles, your comfort and safety remain priority. .
To ensure an exact fit on your staircase, we utilize our proprietary PhotoSurvey 3D system to take pictures of your stairs. These measurements are then uploaded into our system and transposed into an instant look at how your stairlift will look in your home. This allows you the opportunity to make sure you are happy with the design before we even leave your home!
In home evaluations are required to accurately quote a custom built curved stairlift.  Estimated prices are:
Straight Staircase with top or bottom overrun:   $9,995.00
Curved with one 90 degree turn:  $11,285.00
Curved with 180 degree turn:  $12,030.00
90 degree park at top or bottom:  Plus $950.00
180 degree park at top or bottom:   Plus $1,025.00
Automatic Folding Rail at bottom:  Plus $1,795.00
Upgraded Seat:  Plus $350.00
Large radius/spiral turns additional.
Prices are for stairlifts not exceeding a total of 25′.  Additional lengths are extra.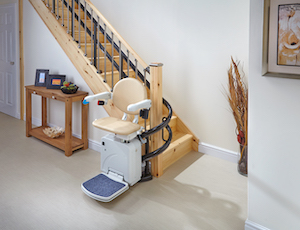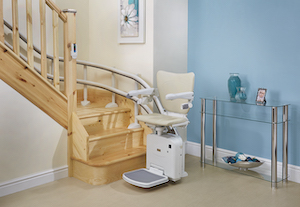 Would you like to arrange an In home evaluation of your stairlift needs? If so contact us Today. If you have any questions or comments, please let us know. We value your feedback.