The only single tube curved stairlift available in the US, the Handicare Freecurve provides a multitude of innovative features to ensure your stairlift is tailor-made just for you.
Custom built to fit your staircase, this unique, single track design is available in a variety of colors to match your home and décor. Coupled with one of three seat styles, your comfort and safety remain priority. This includes our Active Seat option, a stand-assist aid to gently guide your movements as you stand up or sit down.
The Freecurve can overcome many architectural obstacles, allowing it to be installed in tighter spaces. For example, the Turn and Go feature will swivel your seat as you are riding the lift to ensure your knees don't hit the opposite handrail on narrow staircases. The drop nose and powered hinge minimize any track obstructions to a minimum.
To ensure an exact fit on your staircase, we utilize our proprietary PhotoSurvey3D system to take pictures of your stairs. These measurements are then uploaded into our system and transposed into an instant look at how your stairlift will look in your home. This allows you the opportunity to make sure you are happy with the design before we even leave your home!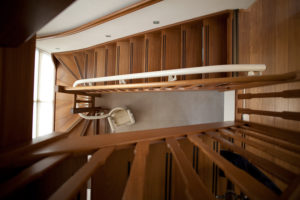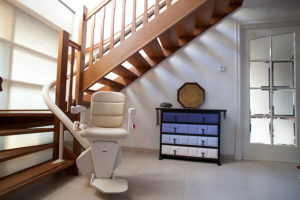 Would you like to arrange an In home evaluation of your stairlift needs? If so contact us Today. If you have any questions or comments, please let us know. We value your feedback.