The new Handicare 1100 has revolutionized the stairlift industry. This stairlift is the result of years and many hours of development and testing. No belts or gear rack means no maintenance and rock solid dependability. It is the smoothest, quietest stairlift ever designed. Stylish, compact, affordable with power options available. 
All listed prices include FREE site survey,  FREE delivery, and FREE Installation,
Ultra Slim Profile. Revolutionary Technology.
The Handicare 1100 Straight Stairlift features next generation technology with an ultra-streamlined design that takes up less space on your stairs. The Patented Multi-Drive System will ensure your stairlift is operating at peak levels at all times with no reduction in performance ever.
With the 1100, we eliminated the traditional tooth rack model and invested in a friction drive system to power our next gen stairlift. We've achieved a quieter, smoother, more robust stairlift that's much easier to maintain. The modern aesthetic combined with stylish design allows the 1100 to blend into any environment, becoming a complementary piece in your home.
Northcoast Mobility Price: $2995.00
Optional:  Power Swivel Seat and Power Folding Footrest: PLUS:  $950.00
Optional: Power Slide Rail:   PLUS: $1200.00 
Optional: Manual Folding Rail:  PLUS:  $750.00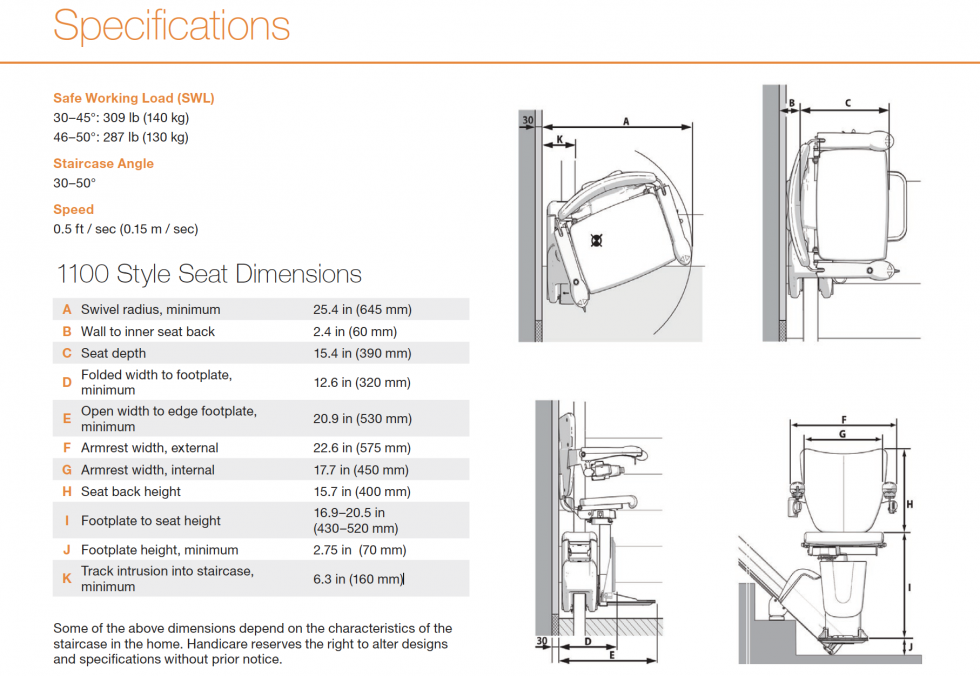 Would you like to arrange an In home evaluation of your stairlift needs? If so contact us Today. If you have any questions or comments, please let us know. We value your feedback.